Give a shout out to those special people and groups that help make Hawke's Bay Christmas at the Park so special!
Dan Groves - Keeps the logistics and set-up running smooth

Chrissy Lepper - Makes those little faces a work of art

Nicola Brown - Puts the money in the tank

Liz Nes - Our social media human to human guru

Peak Vision Church

The Gathering Place Church

Ahuriri Sunrise Rotary Club

Bay City Outreach

Napier Baptist Church

Bay Vineyard Church

Ahuriri Maori Wardens
Become a Volunteer
Volunteers and community groups help to keep Property Brokers Christmas at the Park as a major event in our community calendar. It is an opportunity for us all to work together to help make a difference. Together we can provide a free event that upholds family and community values and focusses on the Christmas message of life, love and hope.
We would be privileged if you could join this years' team of volunteers in any of these areas:
Catering • Car Parking • Logistics • Carpentry • Music & Performing arts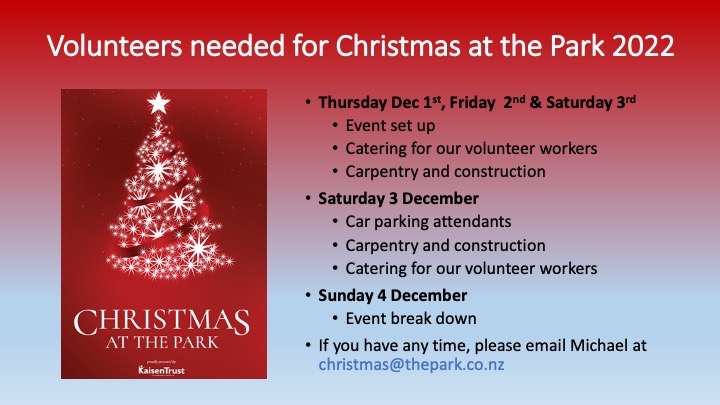 Charities Helping Charities
Charities and Sports Clubs come volunteer and we will donate to your cause.
We can provide Event Management assistance.
We can provide and install fencing for your event.
Email Michael Greenstein at This email address is being protected from spambots. You need JavaScript enabled to view it. for more information on how we can help your charity or sports club while you help us during the Hawke's Bay Christmas at the Park event.